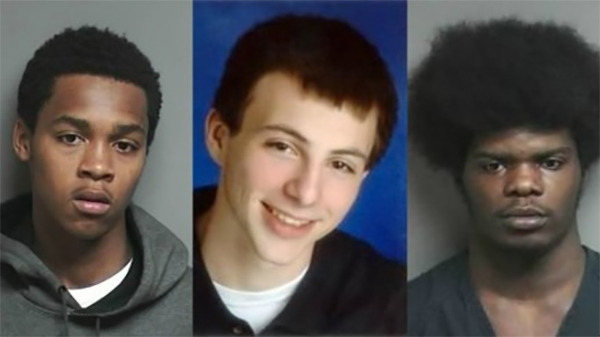 Well, here we go again. Not only does this extremely common occurrence of black-on-white violence get brushed under the rug of the liberal mainstream media, but it's  happening at an increasing frequency.
This story, brought to us by Joe For America, paints the picture of a benign pizza delivery gone horribly wrong:
Alexander William Burkart, 22, crashed his car after being stabbed to death in Mount Clemens, Michigan. Police arrested two eighteen year old black males. Both are described as local gangbangers that have had numerous run ins with police. Burkart was delivering pizzas at the time.
As far as the identities of these cold blooded murderers,
Deandre Lee Arnold, 18-years-old, was arrested early Sunday morning after homicide investigators recognized him from video surveillance near the murder scene at 178 Northbound Gratiot Avenue. Arnold has been charged with Felony Murder.

Deandre Arnold of Mount Clemens was video arraigned on felony murder charges in 41B District Court in Clinton Township. Magistrate Dan Goulette ordered he be held without bond in the Macomb County Jail.

Arnold's alleged accomplice, Jayvon Tarice Cates is now in custody as well.
When will this end? When will the baby-faced Trayvon Martin and gentle giant narrative of Michael Brown be put to rest when thugs like this are the rule rather than the exception when it comes to young men int he black community? When will the leaders of community stand up and take responsibility for their own failings and realize that it's not society that's keeping them down, but themselves?