Looks like the Democrats have a bit of egg on their face here.
The Dems and any Liberal that think they know anything about foreign policy seem to be forgetting a very important point when they criticize Trump: Obama will go down in history as the worst foreign policy president in history. That being said, Dems and Libs continue to hammer Trump over his immigration policies saying that they would never work in other countries and that foreign leaders don't think like this. Except for the fact that they do.
Whoops. Must have missed when Northern Italy's leader, Matteo Salvini, attended a Trump rally in Pennsylvania and agreed with Trump's entire policy.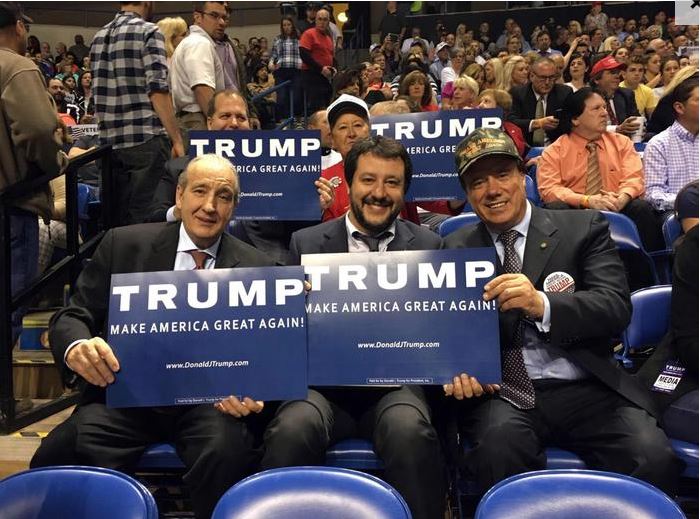 The leader of Italy's Northern League, Matteo Salvini, met with Donald Trump on Sunday evening in Pennsylvania, where they discussed the economy and Europe's migrant crisis.

During the campaign rally in Wilkes-Barre, Salvini was holding a "Trump: Make America Great Again" poster and afterward had a 20-minute meeting with the Republican presidential front-runner.

As Salvini assured Trump of his support for victory next November 8, the New York magnate returned the campaign well-wishes, declaring, "Matteo, I hope you become Prime Minister soon."

On the question of the immigration crisis, the two men reportedly were in "total agreement," and discussed the need for policies targeting the populations of countries of origin to keep them from fleeing from hunger and poverty.

Last month Salvini said that he was a Trump supporter all the way. "His rigor, his strategy for economic recovery, his security policies, all make me root for Trump," he said.
Well that sure backfired didn't it? After this, Trump and his son Eric went on Hannity on Fox News to then talk about the immigration policy and clarify its points.
This continues to show that Trump not only can lead and has great ideas for America, but that his sentiments are echoed throughout the world. Give it up, Trump's the man for the job.
(Source: Breitbart)