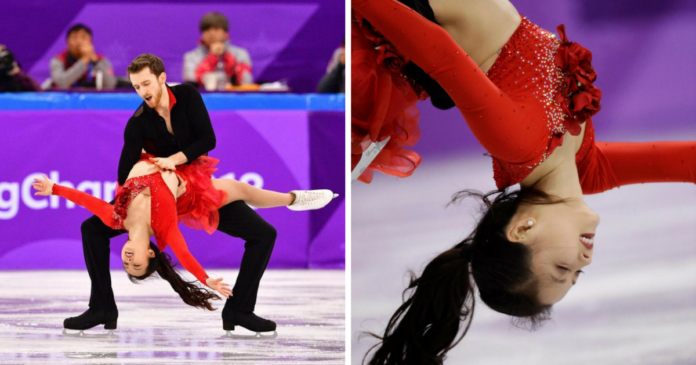 The Winter Olympics are finally upon on us, and already, there's been drama and amusing incidents that make the games so entertaining. One of the most popular sports at the games is undoubtedly figure skating, which has provided all the entertainment you could hope for.
While the individual events are still a ways off, the team events and mixed pairs have started. One of the skating duos provided a surprising and titillating glimpse at far more than their dazzling skills, as the censors were nearly needed to keep the program G-rated.
As reported at the Sun, South Korean ice skater Yura Min and her partner had just started their routine when Min suffered a Janet Jackson-esque wardrobe malfunction on the world's biggest stage.
As her partner Alexander Gamelin spun her around, Min had to continually adjust her red top, as her dress hook came undone right at the beginning of the routine. At one point, it looked like everything was about to fall out, but Min gracefully adjusted her dress without missing a single beat or appearing flustered in the least.
"I was like, 'Oh no!'" she said. "If that comes undone, the whole [outfit] could just pop off. I was terrified the entire program."
"I didn't stop," she said. "I went from the beginning to the end. I didn't stop because you get a deduction if you stop in the middle of a program. In my head, I was thinking, 'Is it better to stop and fix it and get the deduction or keep going?' "
Yura, who was competing in the figure skating team event, received well-deserved praise from the commentators who were impressed with her ability to not let such a potentially embarrassing malfunction affect her performance.
She and Gamelin will compete in the individual pairs competition later this month, where hopefully her outfit will stay in the proper place. As for the duo's team performance, they finished a disappointing ninth out of 10 teams. But much respect has to be given for how she deftly handled such distressing situation.
Source: Sun