Here's yet ANOTHER reason why Donald Trump should be president.
For everything we continue to hear about Trump not caring about America, Americans, and that he's trying to do to destroy this country, it all seems like it's just to get a story and get viewership. Political outlets continue to bash Trump for being racist, selfish, and just a generally terrible person. Well can you honestly say that someone who donates $100,000 of his own money to the 9/11 memorial fund is a terrible person? Because that's exactly what Trump just did.
This is why we need him as our leader. He truly cares about this country.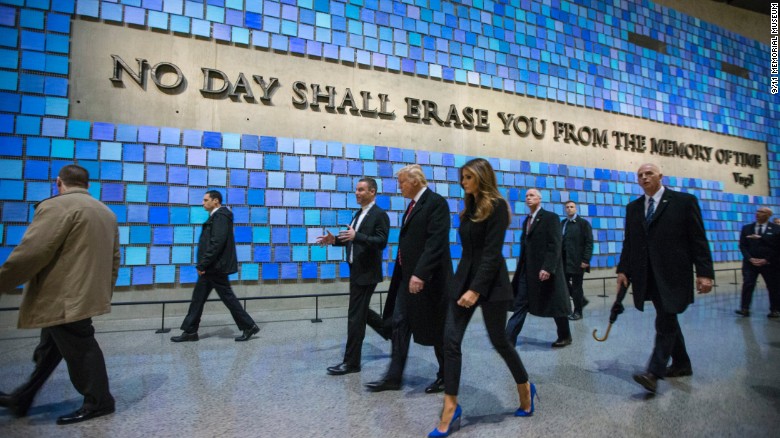 Donald Trump made an unannounced stop at the National September 11 Museum Saturday morning in New York City.

Trump did not visit the memorial itself but the adjacent museum, which he toured with his wife, Melania, and his staff. Michael Frazier, a spokesman for the museum, later said Trump made a $100,000 donation.

After the visit, which lasted less than a half hour, Trump and his entourage headed back to Trump Tower. They declined to take questions from reporters.
That last point is particularly interesting. Trump knows what a solemn place this is. Choosing not to publicize this for his own gain very much shows the respect he has for the 9/11 tragedy.
A statement from Trump spokeswoman Hope Hicks said the Trumps "were given a tour by museum president and CEO Joe Daniels, along with other museum officials and representatives of the (New York Police Department) and (Port Authority Police Department)."

"They were incredibly impressed with the museum, a monument representative of all of the wonderful people who tragically lost their lives and the families who have suffered so greatly," Hicks said.
Amen. And Trump hit Cruz again saying that the museum and the New York spirit of overcoming the 9/11 terror attacks was what "New York values are truly about." Damn stright! Couldn't agree more.