You've no doubt seen a million polls the last year saying how wonderful Barack Obama is. You've probably seen these polls from mainstream media outlets like ABC, NBC, CBS, MSNBC, CNN, and so on. Notice how all of those outlets are liberal and heavily left-leaning.
Well here's the counterpoint.
According to a Gallup poll of real Americans, the country believes that America has taken massive steps backwards during the 8 years of Obama's horrible presidency.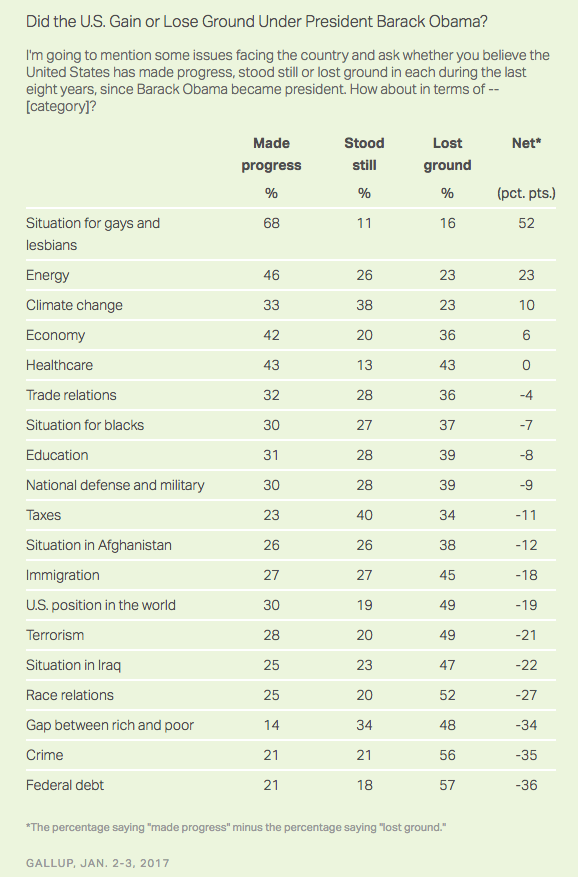 The nation's overall progress reversed and then slid backwards during the eight years President Barack Obama has been in the White House, according to Gallup's new survey of American adults.

"Asked about the state of the nation over the past eight years, Americans say the U.S. gained ground in four of 19 policy domains, and they say it lost ground on 14 and held steady on one," said the Gallup press statement, which highlighted factors deemed favorable to Obama. 

The public sees "the biggest setbacks on the federal debt, crime, the gap between the rich and the poor, and race relations," Gallup admitted.  Those grades were, respectively,  minus 36 percent, minus 35 percent, minus 34 percent, and minus 27 percent for "race relations," Gallup acknowledged. Obama also scored minus 7 percent when Americans were asked about the "situation for blacks."

Overall, the public graded Obama's accomplishments as a minus 9 percent rating in the survey, which was taken Jan 2 to Jan. 3.
So just remember, when the mainstream opines about Obama and how good we had it, they are the only ones thinking that way. America is worse off now than it was eight years ago. Bring on Trump!
(Source: Breitbart)